Up to $15,000 in total Rebates!
Conditions Apply - Contact us today to find out how to qualify!
There are several rebate programs available for homeowners in Metro Vancouver considering home renovation and improvement projects. These rebate programs are designed to encourage the adoption of energy-efficient heating systems and reduce the environmental impact of energy consumption.
At Royal Vancouver Air Conditioning, we are home owners too and we completely understand that it can be a challenge to navigate the different rebate programs and determining which one is the most suitable for your needs.
That's why we offer full assistance to our clients in identifying the most appropriate rebate program for their specific situation and apply on their behalf, so as to make the process hassle-free and efficient.
We take the time to evaluate our clients' needs and recommend the best rebate program available.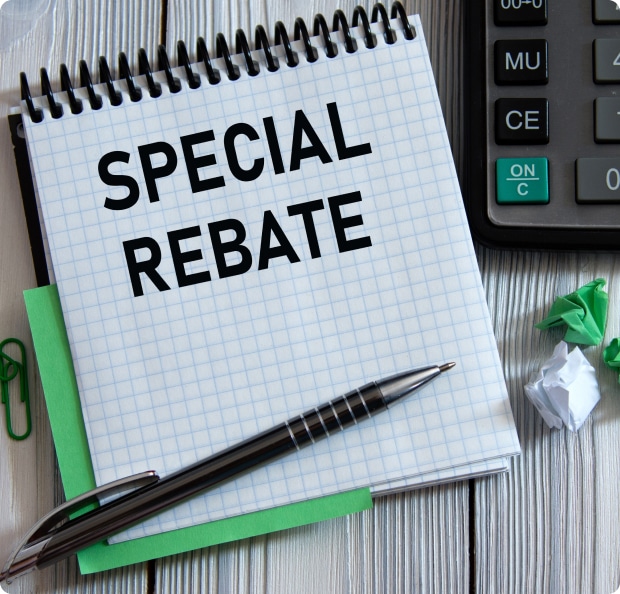 Canada Greener Homes Grant - up to $5,600 available
The program, started in 2021, will be worth $2.6 billion over the next seven years (until 2028, or whenever it is used up). Eligible homeowners could get a maximum of $5,000 for energy-efficient retrofits to their main homes, plus another $600 for the services of an Energy Advisor who completes the home energy evaluations.
We help you through the entire rebate process, and we've linked the program's official webpage below.
If any of the following conditions applies, you are ineligible for this grant:
– You are a landlord and rent out your property.
– You are a renter.
– You already started or completed your retrofits without first receiving an EnerGuide home evaluation.
– Your home was built less than 6 months ago (but you can apply once your home is at least 6 months old).
– You have not moved into the home yet because you are renovating it, before making it your primary residence.
CleanBC program- up to $6,000 available
The CleanBC Better Homes and Home Renovation Rebate Programs, administered by BC Hydro, FortisBC and the Province of BC, provides rebates for improving your home's energy efficiency through select upgrades.
By applying for the CleanBC program, you could receive up to $6,000 in heat pump installation rebates.
This rebate can be combined with the federal Greener Homes Grant and other available grants and rebates.
Please note that if you already have a heat pump, you are not eligible for CleanBC's heat pump rebate. In such cases, only federal rebates are available.
CleanBC offers a rebate program provided by the Government of British Columbia, and it is available to homeowners, businesses, and other organizations to upgrade to energy-efficient heating, ventilation, and air conditioning (HVAC) systems. The program's goal aims to reduce greenhouse gas emissions and support the transition to a low-carbon economy. Eligible heat pumps are part of this program.
Businesses and other organizations can apply through participating contractors. CleanBC program availability is subject to government funding and may change at any time.
Please check out CleanBC's program website for detailed eligibility requirements.
CleanBC Commercial Express Program
The CleanBC Commercial Express Program is a rebate program designed to help commercial, institutional, and light industrial building owners and managers in British Columbia to undertake energy-efficient upgrades. The program is focused on offering pre-approved measures and standard incentives, making the process more accessible and streamlined.
The incentives provided under the program are available for a variety of measures, including lighting, HVAC, controls, and building envelope upgrades.
Building owners and managers can receive up to $25,000 in incentives for each individual measure and up to $100,000 for multiple measures.
The goal of the program is to assist building owners and managers in reducing energy consumption, lowering greenhouse gas emissions, and increasing the comfort level of their buildings. By doing so, businesses can save money on energy costs and reduce their environmental footprint.
The program is part of the CleanBC initiative, which aims to help BC become a leader in the low-carbon economy. Through the program, the government hopes to promote the adoption of energy-efficient technologies and practices, reducing greenhouse gas emissions while also improving the competitiveness of local businesses. 
In summary, the rebate options are divided into three levels: federal, provincial, and municipal.
– The Canada Greener Homes program is a federal subsidy with a maximum amount of $5,000 + $600 for the services of an Energy Advisor.
– In British Columbia, there are several provincial rebates available: BC Hydro & CleanBC Better Homes (up to $6,000), Group Purchase Rebate ($500), and the Innovative Clean Energy (ICE) Fund's Industrial, Commercial and Institutional Program (up to $100,000).
– Homeowners could choose the income-qualified program which grants up to $9,500 which can be combined with the federal grant for a total of $15,100 in rebates (as of June 23, 2023).
– Many municipality offers top-ups ranging from $350 (last verified June 12, 2023) to $2,000 (West Vancouver and North Vancouver, as of June 23, 2023).
Don't delay, these rebates are all limited and some cities' quotas have been completely filled, with City of Vancouver being the most recent, announced on May 15th, 2023.

We help you take care of the entire rebate from start to finish, saving you time and energy!
Contact us today for a free estimate! (604) 439 8888.